We'd like to introduce you to some of our team. Meet Nicola, an Occupational Therapist, Julia, a Speech Pathologist and Scott, a PBS Practitioner.
Nicola, Julia and Scott had different journey's before coming to the Outcomes Connect team. Here they tell us, in their words, what a day in the life of an Outcomes Connect Clinician is like.
Nicola, Occupational Therapist & Positive Behaviour Support Practitioner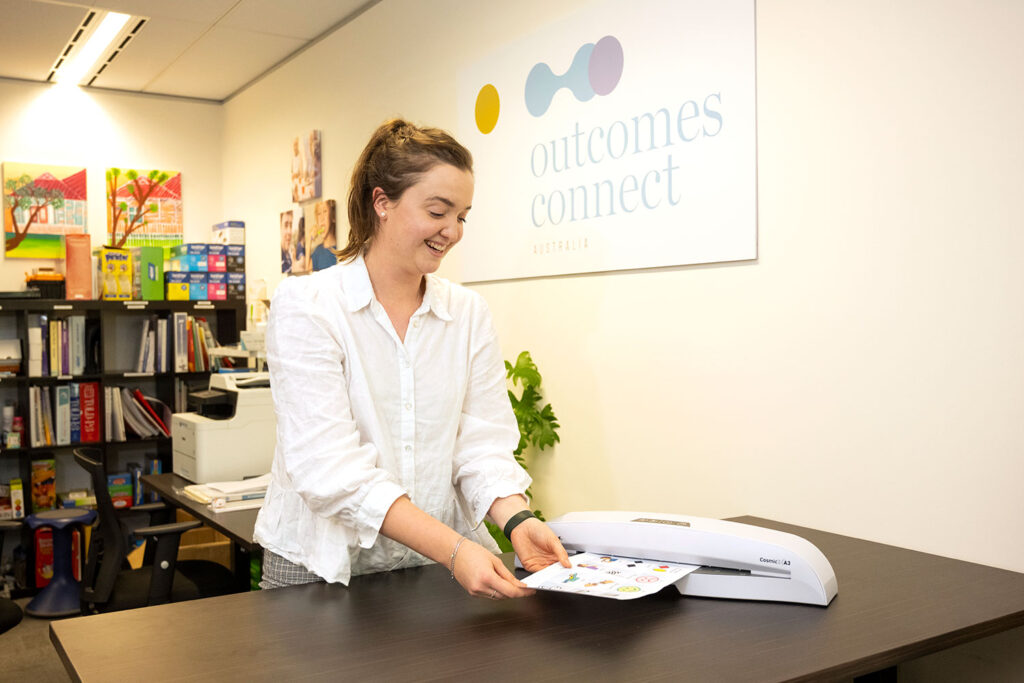 As a new Occupational Therapy (OT) Graduate, I knew that I wanted to work for an organisation that genuinely cared about my development and valued me as a new clinician. Outcomes Connect provided a structured and consistent approach to professional development and has made the transition into the Allied Health industry incredibly rewarding. The team that I work with have such depth and variety in their experiences across our Occupational Therapy, Speech Pathology and Positive Behaviour Support services. It has been wonderful to see the company's philosophies about teamwork, high quality clinical services and continuous improvement put into practice across the team.
What the Work Involves
One of the great benefits of working as a community-based practitioner is that you get to work with a broad range of clients, each with various diagnoses and functional challenges. Our work involves a wide variety of the occupational therapy scope of practice, including skill building in independent living, equipment assessment and prescription, sensory regulation, and supported accommodation assessments. OT sessions take place in a number of different settings, from the client's home, to their school and in their local community, and also can be conducted via phone or video call where appropriate. The variety within a day's work ensures that every day is different and presents so many opportunities for constant learning!
The Support, Supervision, Professional Development I Receive
Ongoing professional development has been consistently provided throughout my role at Outcomes Connect. The organisation invests so much time in understanding my professional goals and interests and providing ongoing opportunities and structure to support learning in those areas. Weekly supervision, regular meetings within and across clinical teams, and access to internal and external professional development throughout the year has been so valuable and has enabled me to consistently learn and grow as a new clinician. Clear organisational structure and transparency also ensures that I feel confident to ask questions and seek out guidance from team leaders across the organisation. This lets me observe and learn from a range of leadership styles within this ever-growing industry.
In Summary
Outcomes Connect has provided a leading example of how a community-based Allied Health Practice operates. The depth of knowledge across the team, commitment to clinical excellence and positive attitudes of its team members make the Outcomes Connect workplace so enjoyable and engaging. Career progression is strongly promoted demonstrating a genuine commitment to investing in the professional development of clinicians, and I feel supported and encouraged to keep developing my clinical and leadership skills.
Julia, Speech Pathologist & Positive Behaviour Support Practitioner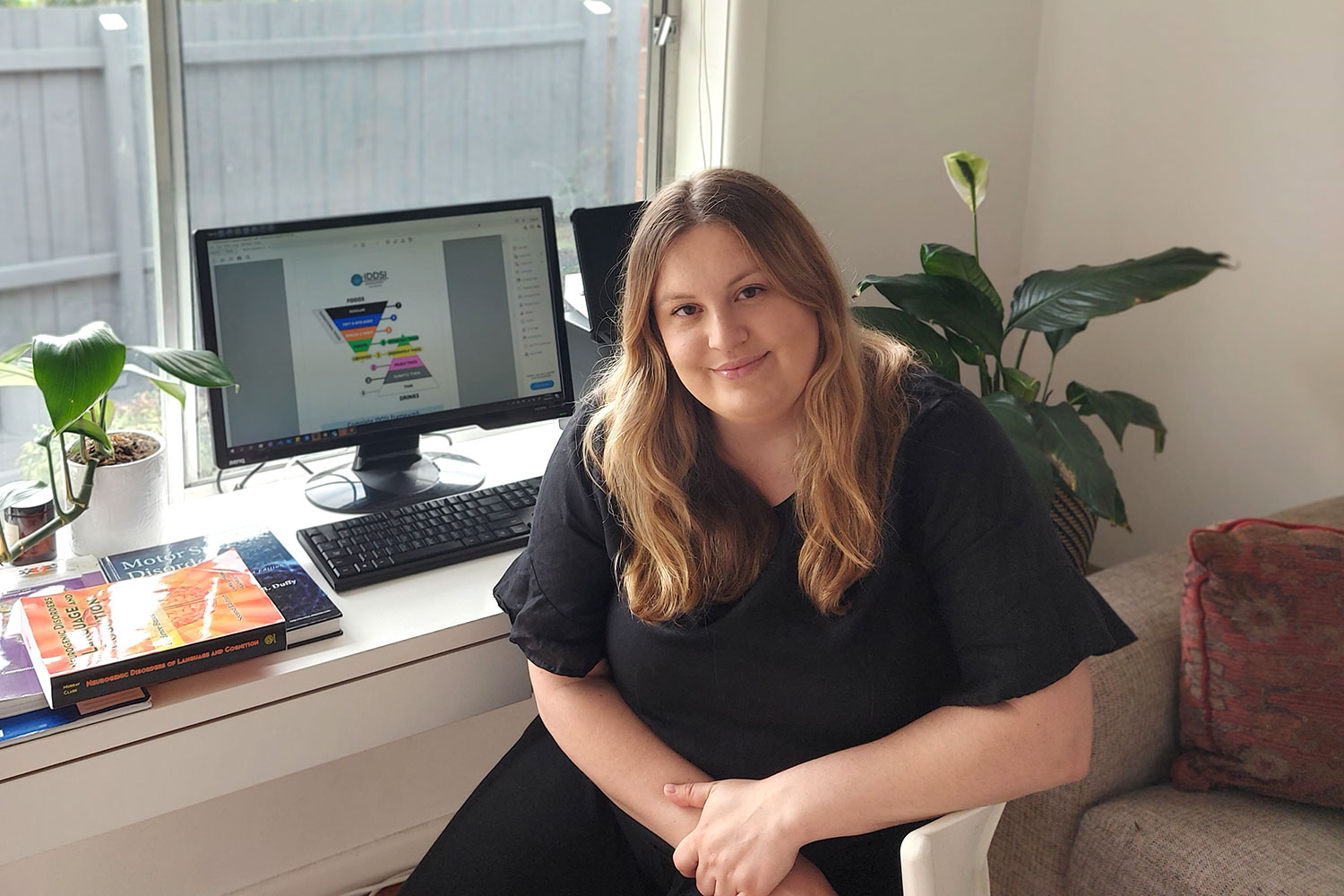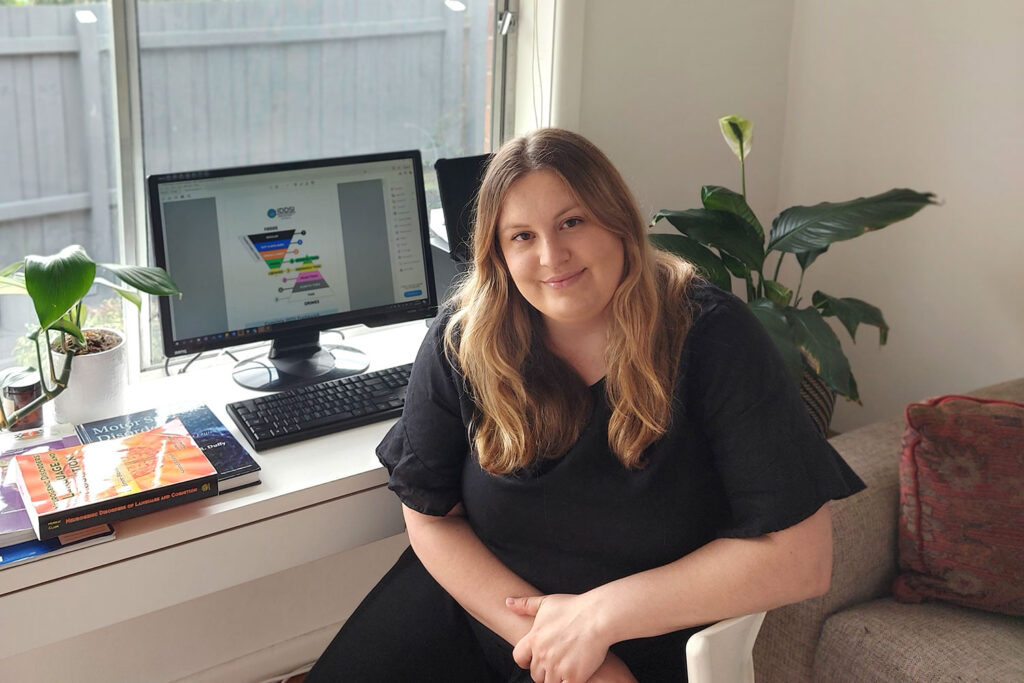 Why I joined Outcomes Connect & What the Work Involves
I joined Outcomes Connect in February 2019 as a new Speech Pathology Graduate. I was interested in community-based work so I could employ a variety of Speech Pathology scope of practices including speech, language, augmentative and alternative communication (AAC) and dysphagia management for paediatric and adult clients. I love working with my clients to achieve their goals and support them to enhance their skills to maximise communication and mealtime independence.
The Support, Supervision, Professional Development I Receive
I receive regular internal and external professional development and supervision opportunities. I am so lucky to work with such great colleagues with skills and expertise in Speech Pathology, Occupational Therapy and Positive Behaviour Support. I feel incredibly supported within my team and know I can always reach out for assistance, guidance, reassurance or a debrief.
In Summary
Outcomes Connect allows me to work flexibly and in a range of environments. I can work from home, at the office, in the community at clients' homes and sometimes I even take advantage of local parks and cafes when I am out and about in the community.
Scott, Positive Behaviour Support Practitioner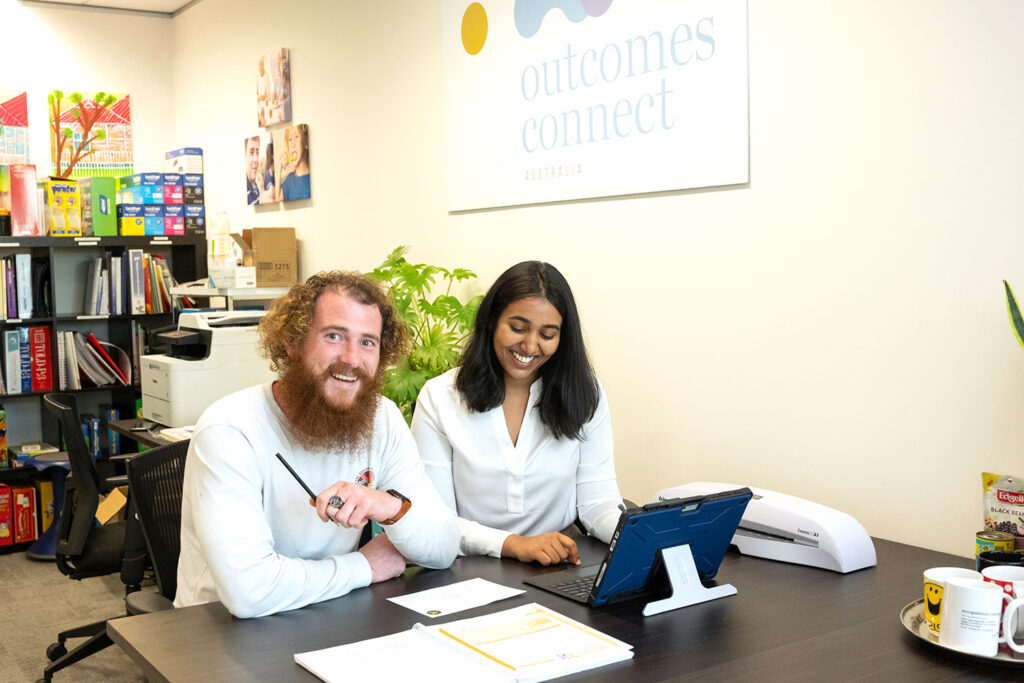 Why I Joined Outcomes Connect
After teaching in Special Needs Schools for five years in Australia and London, I realised that I wanted to have more involvement with young people who were not receiving the support they needed at school.
I was researching what roles aligned with my passion for supporting people with disabilities and complex behaviours and found the Positive Behaviour Support (PBS) position with Outcomes Connect. I applied and was successful in gaining the role of a Behaviour Support Practitioner.
What the Work Involves
My role as a Behaviour Support Practitioner at Outcomes Connect involves:
Contacting Families, Carers, Schools, Other Allied Health Professionals and whoever is involved in a participant's life
Meeting and building rapport with the individual I am supporting (my favourite part of the job)
Investigating what needs are not being met in their lives and what may be impacting their behaviours
Investigating if there are any Restrictive Practices in the person's life, what they might be and how we can ultimately work towards removing them, to greater improve the individual's quality of life
Conducting assessments and gathering information to ensure relevant knowledge is used to develop strategies
Creating a Behaviour Support Plan specific to the individual that caters to their needs and gives them the tools to improve the quality of their life
Working closely with the individual and all their stakeholders to ensure the Behaviour Support Plan is being implemented and constantly making adaptions as the individual navigates through their behavioural journey.
The Support, Supervision, Professional Development I Receive
From day one I have received constant support and supervision from other members of the Outcomes Connect team. I have fortnightly supervision sessions with a Senior Clinician where we discuss the plans I am developing and can ask any questions. This process has been a large part of my development as I feel comfortable to ask any question and am encouraged to develop my personal style of Behaviour Support.
We run a weekly panel where Behaviour Support Plans that have been developed are discussed with Senior Clinicians. This process has also developed my ability to write detailed and specific Behaviour Support Plans.
Professional development is at the forefront of Outcomes Connect. We have fortnightly PD session's with guest speakers and look into the research surrounding the Behaviour Support field. This process is amazing as we can professionally discuss our ideas and constantly improve our understanding of PBS, whilst staying up to date with current studies and learnings.
In Summary
Working at Outcomes Connect for me, is a dream come true. I have the opportunity to intensively support members of the community to improve their quality of life.
I am supported to develop my ability to do this in a friendly environment that encourages growth at every corner. The culture inside Outcomes Connect is unlike anything I have seen. Our health and wellbeing team constantly encourages mental health awareness and creates activities that brings us closer together. We are encouraged to share our thoughts and we have a wide range of clinicians from many different backgrounds who offer their individual knowledge during team meetings that help us build every plan.
The social side of Outcomes Connect is very welcoming, and yes, we do have a lot of fun together during our many social engagements.